Premium Persian Meal Kits

Premium Persian Meal Kits
Premium Persian Meal Kits
Heat & Eat Meals
Persian Pantry Boosters
Premium Persian Meal Kits
Persian Fare. Delivered.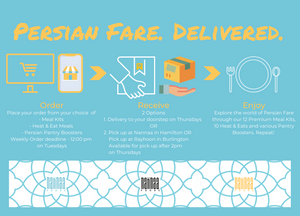 Persian Fare. Delivered.
From your browser/smartphone to your doorstep...to your kitchen table, we are making the preparation and cooking of home-cooked Persian meals as easy, intuitive and enjoyable as it's ever been. Save time, reduce food waste and most importantly, bring people you love together for a home-cooked Persian meal with our line up of Meal Kits and Heat & Eat offerings. You will thank us later. 
There are 2 options to receive your order; Delivery OR Pick-up. We currently deliver once a week (Thursdays) to the Hamilton, Burlington and Oakville area (GTA Delivery coming soon!). Orders placed before noon (12:00 pm) on Tuesday will be delivered on Thursday (perfect timing to prepare the meal over the weekend!). Orders placed after the cut-off time will be delivered the following Thursday. For Pick-up, you can pick up your order at Nannaa Eatery in Hamilton or Rayhoon Eatery, our sister restaurant in Burlington. Select the pick-up location at checkout and your order will be ready on Thursdays after 2:00pm.
Our Offerings
Premium Persian Meal Kits-
A fun, at home, Persian cooking experience! Learn about Persian cuisine and choose from our 12 recipe options. Each kit contains the ingredients needed and a recipe sheet to take you through the steps. This is not your typical fast and quick convenience meal kit; this is a fun way to experience Persian cuisine from the comfort of your own home.
Heat & Eat Meals- 
Craving a delicious Persian meal but on a time crunch? No problem! These individual meals are fully cooked, packed and frozen right away to ensure freshness. All you have to do is just heat up and enjoy. Perfect for your work-from-home lunch break or study break!
Pantry Boosters - 
These are a variety of products that can be used to fill your pantry with Persian staples as well as our Persian inspired products to add a boost of flavour to any dish.

Our Brand. Our Promise.
When you receive a box with this seal tape, you can rest assured that it was carefully packed full of quality ingredients. That is our promise to you.
Heat & Eat Meals - Ready in 5 mins!